FE Series - Quick connector
MOST SOLD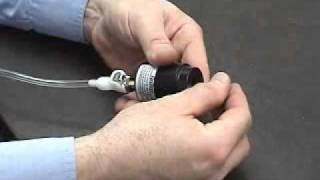 Watch video
Fastest
Automated Connections to Internal Tubes, Bores and Threads
The FI Series quick connectors deliver instant, leak free connections for vacuum and pressure testing, fluid filling or flushing applications. The FI quick connectors seal internally to a wide variety of smooth or threaded tubes and the uniform seal movement makes a leak tight connection, even into threaded, rough and oily surfaces.
FE user manual.pdf
Full product description ▼
Product sheet with dimensions and specifications
2019 - FE serie.pdf
Now available with SMART Connection Verification™ Technology
FasTest's Connection Verification™ technology provides a highly accurate electrical output with immediate connection status feedback. Connection Verification™ enabled FasTest FI quick connectors increase production efficiency by reducing wasteful rework and increasing throughput in a wide variety of applications:
Pick-n-Place applications can utilize Connection Verification™ technology to identify "Part Presence" or "No-Product" states
Benchtop manual leak test stations are able to to validate actions taken by a manual operator by automatically starting leak tests
Automated Leak Testing systems are able to remove pre-programmed delays, and automatically trigger next actions
Connection Verification™ also reduces the need for other expensive components in Packaging and Filling Systems.
Features
Are ideal for automated processes and high volume production testing
Provide instant, internal sealing from vacuum to 120 psi (8.2 bar)
Model for inside diameters from 0.310" to 3.005" (7.88 mm to 76.3 mm)
Use compressed air activates the seals for a full-flow test with air, gas or liquid
Are ideally suited for pick and place parts handling applications